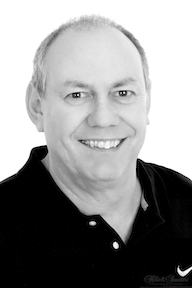 "I have had a passion for music as long as I can remember and started DJ'ing with friends during the late seventies and early eighties covering everything from family celebrations, to pubs, clubs and colleges. In those days you needed strong arms and a good back as all music was on vinyl and equipment was quite cumbersome and heavy. I stopped when I got married and had a family but always maintained that passion and interest.
 In the late 90s circumstances in my life changed and I took up dancing through an organisation known as Ceroc. I started to spin tunes occasionally on dance nights and dance holidays so when a friend asked me to 'look after' his sons DJ rig as he had given up and had nowhere to store it, the opportunity was too good to turn down! I initially started using the rig for my own kids' parties as they were going through teenage years whilst at the same time started DJ'ing for Ceroc on a more regular basis. I started to get a good reputation for playing music that people wnated to get up and dance to and was getting asked by friends to DJ other events, including birthday parties and weddings and just ploughed any money earned back in to buying new equipment and improving equipment.
I registered the .co.uk domain and setup the SmoothNights website in Spring 2014 and all is now going from strength to strength! My current setup has all been purchased new in the last couple of years and fully maintained in pristine condition. I pride myself in the sound quality my system delivers. To me music creates emotions that makes you want to get up and dance if delivered in the right way.
My lighting is all made up of low energy LED lights and is computer controlled to instantly transform any venue from a sophisticated lounge environment to a buzzing nightclub with lights and lasers dancing across the walls and ceilings in time to the music.
I provide my DJ and Mobile Disco services to a very high standard and not to a price! If you genuinely have a very light budget or organising a charity event get in touch and we can discuss but what I don't provide is a 'Cheap Disco'!
If, what I've written resonates with you and you' re looking for a cheerful enthusiastic DJ for your event then get in touch using the form below or feel free to call me on 07554 000 170."
Got a question? Just drop us a line and we will get straight back to you.

For booking enquiries call Kevin now on 07554 00170 or fill in our online form